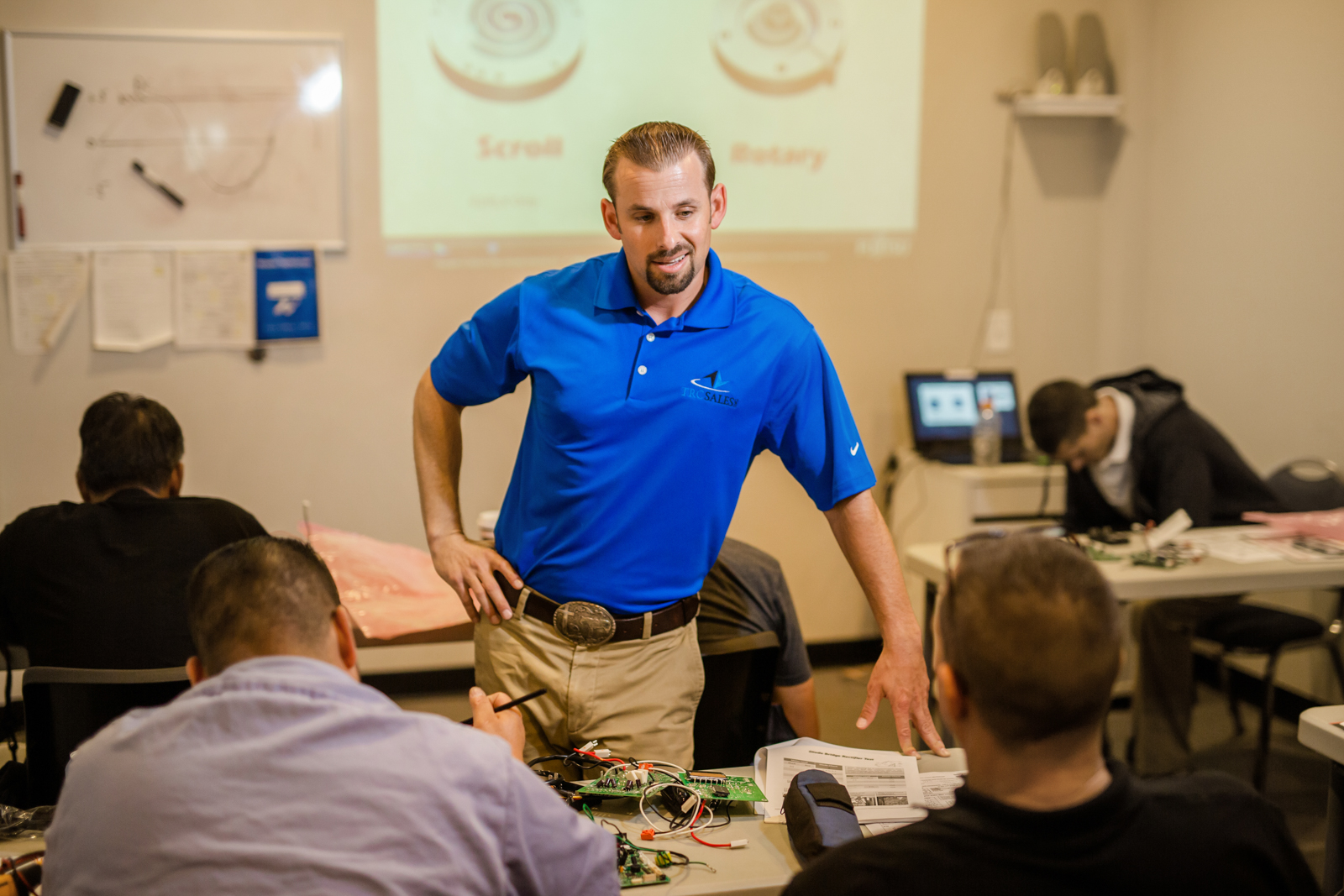 TRC Sales Inc. has a training facility at our office in Garden Grove, CA, which can hold up to 12 people. Our training room is designed for our customer – distributor and contractors to get hands on experience with each of our product lines. Here they can see all that each line offers and how each lines products work.
Available Classes at Garden Grove, CA facility


Tech 101 : This class provides a great technical overview of Fujitsu's Halcyon products. It provides a more technical perspective than the FAST class, while complimenting it with application ideas, pictures, installation hints, tips and requirements. Troubleshooting sections offer excellent guidance for system and component troubleshooting. The course is comprised of 6 modules. Most can be instructed in just over an hour providing perfect timing for breaks. This full day course helps ensure all participants receive the basic skills and knowledge to apply and support Fujitsu minisplit products.
EDTT:  This one day regional class provides in-depth troubleshooting for Halcyon Inverter systems. Morning session provides thorough instruction on basic electric and how to use a multi-meter, as well as a complete teardown & rebuild of an indoor wall mount unit. Afternoon session provides instruction on inverter technology and DC components. The afternoon lab includes board level diagnostics and hands on testing of outdoor unit circuit boards with multi-meters. Students need to bring a digital multi-meter with fresh batteries to the class. (Meters are not provided).  Multi-meter should be capable of specific component testing; this includes the diode check function and a 4-10 mega-ohm testing capability.
JSIT  J–Series Installation Training: Training for J-II and J-IIS with focus on installation instruction for the contractor.  Topics covered include:
Refrigerant Piping, Wiring and Set up
Start up and Test Run
Service Tool Labs
Overview on Residential/Light Commercial fans – Centrifugal (PV fans), Mixed Flow (TD fans), Bathroom fans (PC). And how do these fans meet ASHRAE 62.2. ASHRAE 62.2 applies to all residential spaces that are "intended for human occupancy" in single family homes and multi-family structures up to three stories. These spaces include living rooms, bedrooms, kitchens, bathrooms, hallways, closets, store rooms, laundry rooms, garages, and basements.
Duct Smoke Detection Codes, Standards & Testing: One hour CEU-accredited class and learn about duct smoke detection HVAC codes, standards, and testing requirements. We will also discuss photoelectric versus ionization smoke detection technology. This course is ideal for individuals involved in the purchase, sale, installation or specification of duct smoke detectors in HVAC systems.
Duct Smoke Detection: Back to Basics: One-hour CEU-accredited class to learn about the basics of duct smoke detection. Topics include basic code and testing requirements, the different types of duct smoke detectors and how they operate, installation and placement, and what should be considered before purchasing duct smoke detectors. It will also answer frequently asked questions about duct smoke detectors and duct smoke detector wiring. This course is suited for individuals involved in the purchase, sale, installation or specification of duct smoke detectors in HVAC systems.

ON-SITE TRAINING, HANDS-ON EXPERIENCE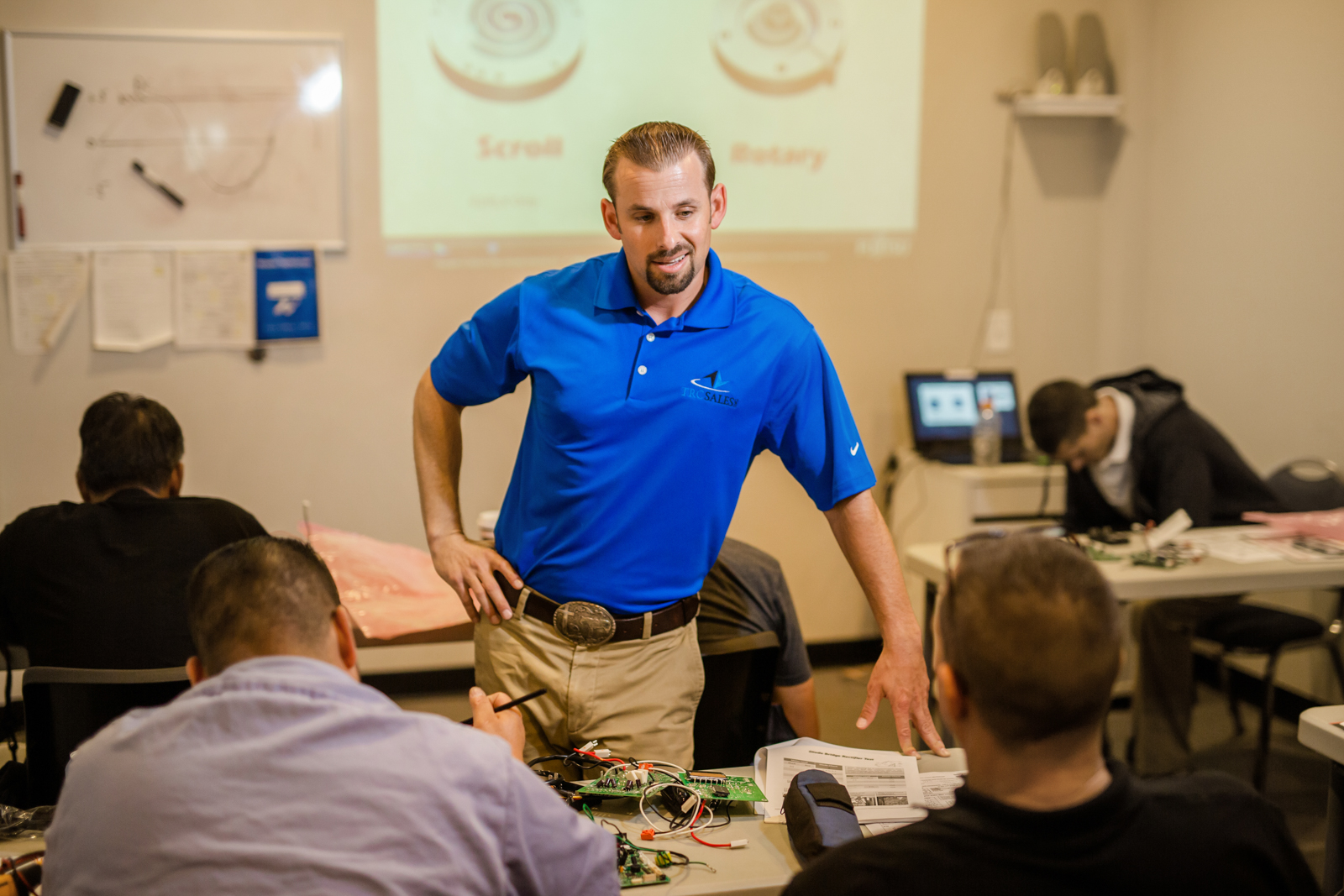 TRC Sale's trainers are all Fujitsu certified trainers.